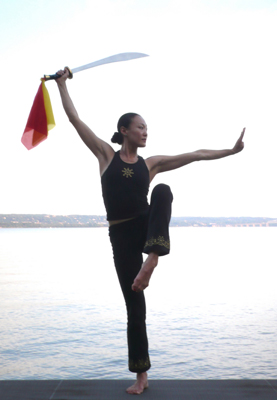 Kung Fu Yoga® unifies yoga and martial arts.  The static alignment of yoga naturally evolves into the kinetic alignment of martial arts.    Yoga poses progress into kicks and strikes.  Geometrically correct alignment means greater efficiency, flexibility, strength and coordination with less effort.  The greatest power requires inner peace. The greatest peace requires inner power.  Through the union of opposites, Kung Fu Yoga® leaves you focused, relaxed and balanced.
The bodhisattva warrior has the courage to live with the heart wide open.
copyright Hwalan Shub 2019
Hwalan, What you do changes lives. You put so much into your class. Thank you for your generosity. Another chance in healing and be a vessel of love like you said.