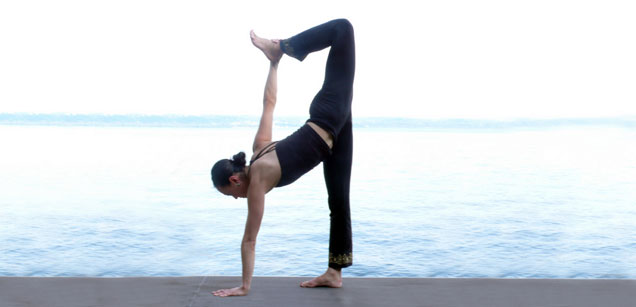 ABSOLUTE BEGINNER
Beginning yoga or any new endeavor can be daunting. A private session is the ideal way to learn the foundation of yoga in an environment that nurtures safety and confidence.
BASIC VINYASA YOGA
Attention is given to pranayama (yogic breathing), alignment and appropriate modifications for the individual.
INTERMEDIATE/ADVANCED VINYASA YOGA
Once the foundation of vinyasa yoga is formed, the student is ready to explore arm balances, backbend variations and advanced inversions.
PILATES
Excellent way to coordinate the outer body with the inner body.  Use of central, deep intrinsic muscles results in efficient movement.
MARTIAL ARTS
Based upon Shaolin and Wu Shu, martial arts takes the art of moving through space to a completely new level of coordination, speed and balance, as well as discovering a radical way of weaving the body in and out of shapes. The fire of martial arts is like the fire that purifies gold, leaving you radiant and present. Martial arts can be integrated into a yoga session or can be taught as a complete practice in itself.
LET'S BREAK IT DOWN
Sometimes a pose or transition can seem challenging or elusive. It just does not make sense to our body. Here we break down the pose or transition and explore how the individual body is responding, or not responding, to the demands of the pose.
RESTORATIVE YOGA
The primary cause of injury and illness is stress. In restorative yoga we work with props such as a blanket, chair, strap or block to allow our body to passively take the form of a pose. In other words, the props are active while we are passive. A profound release of muscular tension occurs which helps stabilize the sympathetic nervous system. After traveling or when our energy is low, restorative yoga is an excellent way to recharge our batteries.
CHAIR YOGA
Chair yoga is a wonderful way to practice yoga while at the office or as a way to avoid weight bearing on hands or feet.
SPORT PRECISION FLOW
Improve current athletic training (running, golf, tennis, skiing…) with an exclusive practice designed to increase flexibility, focus and stamina.
SITTING MEDITATION
Meditation is a way to cultivate clear mind. When our mind is clear our perception of the world is accurate. When our thought patterns are disturbed, we look at the world through beveled glass. Meditation is like opening the window and looking straight out into the world.
BREATHING
Pranayama, or specific breathing exercises, regulates our system. The alignment of mind, body and heart through the breath promotes greater coordination, energy and peace.
YOGA FOR ACTORS
Yoga teaches the body how to be comfortable in the uncomfortable. When intense emotions surface, the actor must relax into rather than resist the sensation. Mindful breathing teaches us how to move from moment to moment. Yoga supports proper alignment, resulting in greater physical carriage and vocal projection. Exploring the dance between strength and flexibility honors the tenet in which the actor finds strength in vulnerability. Actors are natural yogis – both are seekers of the heart . Yoga creates a sacred place where the actor can center and re-ground.
LIFE COACHING
The insight I have of who you are in your practice can help you forge breakthroughs in other areas of your life.  This is a primarily talk based session in which we investigate our kinesthetic work together to address how you can effect change resulting in greater joy, satisfaction and balance.